All emergency lighting needs and compliance taken Care of, in one phone call.
A prompt response for your management!
The documentation emergency lighting schedule to demonstrate compliance!
Experienced and licensed Electricians!
Half yearly and annual testing and inspections of emergency lights
A team that understand the Fire Systems & Essential Services!
Insured and have all the relevant safety documentation!
Installation | Maintenance | Upgrades | Testing
We are Licensed Electricians
We use Product Compliant to Australian Standards
We perform Regular Testing (as per your Compliance obligations)
We are available for 24/7 Call Out
We offer competitive Quote for Repairs and Upgrades
Australian Standards
The objective of the AS 2293 series of Standards is to provide all those associated with the design, construction, installation, certification and maintenance of all the individual components of an emergency escape lighting and exit signage scheme,…… SAI Global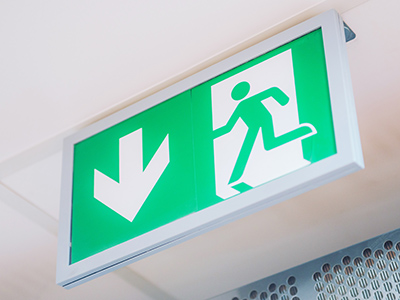 How Often Should We Perform an Emergency Lighting Test
Testing is completed at intervals of six Months and twelve Months. Typically we perform the twelve month testing in line with annual fire safety statement to ensure the council measures are complied with and within 90 days of their reminder letter to you.
The Testing involves running the lights for 90 minutes to test the battery back up as well as other technical checks and observations.
Annual Fire Safety Statement
Typically the emergency lighting testing and repairs is necessary for the compliance for your annual fire safety (AFSS) test.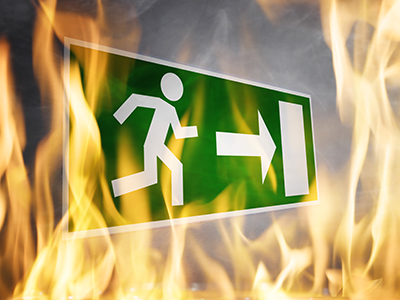 Lights are tested about 90 days before the submission date for the AFSS to council. This provides enough time to perform repairs and retest the emergency lighting system, if necessary.
This will ensure compliance and adhesion to the safety measures in the Annual Fire Safety Statement and the reminder letter from council (which you should receive around 90 days before the due date.
Lighting Repairs
Once the Testing is completed and the log sheets filed with the customer their will occasionally be a requirement for some repairs to the emergency lighting system.
Globes and batteries are the most common.
If there are older signs and lights which are no longer compliant with Australian standards it will be prudent to replace the entire item and install a new product with the appropriate warranty.
How Can We Help you Today
A short, no obligation, site visit, to ascertain the current status of compliance, the number of lights installed and your current obligations and objectives.
By understanding your needs and the requirements of local compliance for essential services, we can provide you the best value for money and maintain you compliance. Keeping you safe!
Inspection and Maintenance
Regular testing and corrective repairs are mandatory for your Emergency Lighting System.
What's Involved in an Emergency Lighting Test
The Test involves an inspection of the device for damage, batteries, brightness, physical condition, electrical connections, state of the globes (black ends) and similar. The device, including "spitfires" and emergency exit signs, are tested at full load (i.e 100%) for 90 minutes as per the Australian standards.
Failure in sustained operations, damaged or worn parts from fatigue, or any other issue which is deemed to compromise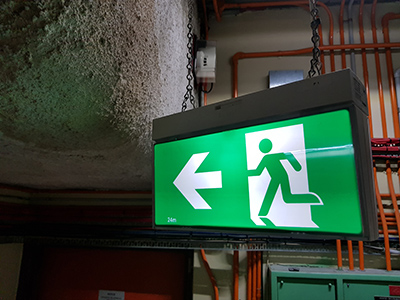 the operation of the device will mean a repair or replacement.
Co-ordination with Occupants
Letting the occupants know emergency lighting testing is taking place ensures a sense of safety for the occupants and expedites the technicians activities on sites. Tenants know a technician will be on site and there will be a minor change in the lighting of the tenancy office / retail space during this time.
This doesn't mean the room will become dark, as often the emergency lighting is (and should be) on a separate independent circuit).
Check List
Australian Standard for Inspection and Maintenance of Emergency lighting is: AS/NZS 2293.2
Two tests per year, (6 monthly interval)
Maintenance Records mus be kept on site
Battery Test lasts for 90 Minutes
replacement products must be Current Australian standards compliant.
Emergency Lighting Test is typically a Measurement in the Annual Fire Safety Statement for Council.
Let your stakeholders and tenants know a emergency lighting Test is to be conducted, date, time and expected duration
Is your Floor area Over 300 meters?
You must have emergency Lighting Installed.
Is your Floor Are Under 300 Meters?
if the exit from any room does not open onto a space with adequate natural light (in the event of an emergency) then Emergency & Exit Lighting is required
Compliance
Understanding all the compliance requirements can be convoluted and time consuming; if you are not sure call us or a commercial electrician for an on site quote without obligation.
A fire services company can also assist, as they will often include emergency lighting tests and performance as part of the Annual Fire Safety Statement works and compliance testing.